Fund Raising
| | |
| --- | --- |
| HOME | Back to our homepage |

The club has several means of raising money besides membership fees. We try to hold direct costs to members down, and provide free events such as corn roasts, Christmas parties and summer picnics for members, children, and grandchildren.

Our main fundraiser has been an annual Smelt Fry, held in the last part of April. We feed over 500 persons each year. Most of the food is purchased, except for desserts that we ask members to make. Members are reimbursed for materials, we just want your time and skills!.

The Smelt fry includes a raffle with both donated and purchased prizes (we have the required state license) and beer and soda sales.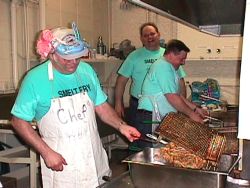 In addition to the Smelt Fry, the Waukesha County Snowmobile Association has sponsored an annual raffle, with trailers, trips, and cash prizes. The tickets for the raffle are sold for $1 each, with the receipts shared with the selling clubs. The club sells tickets as a group at the annual Milwaukee Snow Show, where WCSA has had a booth for many years running, selling tickets and promoting our club and snowmobiling in general. Members also sell tickets individually. No one is required to sell tickets.


We do have a promotion for our members who sell tickets - after selling 20 tickets the club pays for two tickets submitted in the member's name. An additional ticket is awarded for every 10 tickets sold after that.

We have also held our own licensed raffles in the past, both one-day raffles at the Smelt Fry and longer term raffles.